Thank you so much!!
But first I'm excited about this so I want to ask
what you think of this quote?
I saw it in an issue of Real Simple yesterday and immediately had to put one of my photos to it. No time to even properly scrap it! And to think, Marlene Dietrich said it! It's a wonderful reminder to me that the Lord blesses us richly in many ways!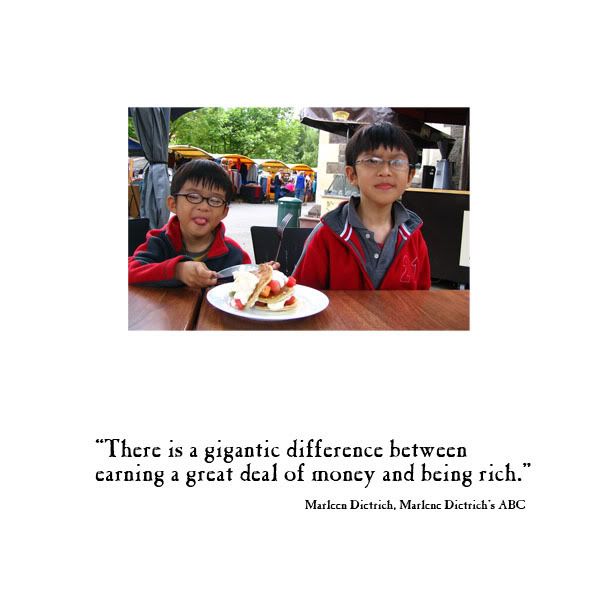 And back to thanking all of you! Thank you so much for your wonderful, kind, lovely comments and well-wishes, I'm so blessed by them! Some of you are special ladies I know from GDS but some of you are total strangers and all of you stopped by to leave a kind word - how wonderful is that? This digi-community is a blessing indeed. Thank you! Please keep in touch with me at GDS or at my blog!
Since I've stopped designing, I've completed "cataloging" all my digi-kits (I print out previews) that I've accumulated over the past year, bought and free - as I've mentioned the amount of stuff shared out there is fantastic, and I intend to chip in from time to time too!
And here's one layout I just completed: some of our many beach photos - I think we are beach bums!!
Do any of you have the same feeling as me, that regardless what expensive far flung holiday we might be able to bring our children to, they seem to enjoy the simple pleasures of the beach the most? The children have much to teach us about contentment!
It's based on SimplySarah's template - isn't she great? you can get to her blog from here:
http://simplysarahdesigns.blogspot.com/
. And that fantastic paper is from Laura Reid's Create Wings - unbelievably beautiful - get them at ScrapArtist.
And now, here's the last freebie I will put up at GDS as a designer, another mini-elements kit I prepared for the previous daily download program, but never put in the store, it's up at GDS. You'll need to log into GDS, the link to the post where you can get the attached file is right here:
http://www.godigitalscrapbooking.com/forum/showthread.php?t=2661
Lots of other fabulous stuff in the same forum area from the other designers too! And don't forget my
Saying-Goodbye sale is still on till 15 August - everything at 60% off
! Here's the link to my store:
http://www.godigitalscrapbooking.com/shop/index.php?main_page=index&manufacturers_id=10&sort=7&page=1